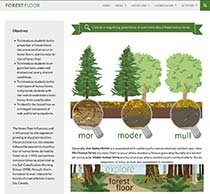 Soil description and classification are important skills for most natural resource professionals. Those who work in regions with extensive forest ecosystems need to have an understanding of forest floor description, humus form classification, and the processes involved in forest floor development. To improve post-secondary education of forest floor description and forest humus form classification we developed:
The Forest Floor Tool – an online, multimedia supported educational resource
The Forest Humus Forms Quest – a mobile, game-based educational quest
A learning unit that integrates these two tools in Introductory Soil Science courses at the University of British Columbia, Vancouver, BC and Simon Fraser University, Burnaby, BC.
Funding for the Forest Humus Forms Quest project was provided by the UBC's Teaching and Learning Development Fund (2014), while funding for the Forest Floor Tool was provided by the UBC Flexible Learning Fund (2013-15).
Team members:
Darrell Hoffman, (UBC)
Julie Wilson (UBC)
Dr. Maja Krzic (UBC)
Saeed Dyanatkar (UBC)
Dr. Margaret Schmidt (SFU)
Sylvain Marcotte (14Oranges Software Inc.)
Chris Crowley (UBC)
Tom Scott (UBC)
Kirk Karasin (UBC)
Claire Roan (UBC)
Dr. Les Lavkulich (UBC)
Dr. Sampson Nashon (UBC)
Shirley Ho