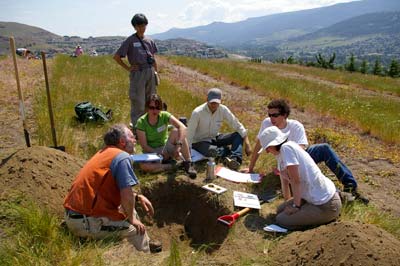 The Soil Identification & Classification field course focuses on soil description, identification and classification principles for natural resource use across the landscapes of British Columbia.
Course Learning Outcomes:
Identify key soil properties (texture, structure, colour, pH, parent material, humus forms)
Identify and differentiate soil horizons
Learn about basic approaches to interpreting soil and landscape features for various land uses
Classify soils according the Canadian soil classification system
The course learning outcomes are met through a 3-day field work, keeping a detailed field notebook, describing a soil at one of the soil pits at the end of the field work, and preparing a term paper. The course coordinators are Dr. Shannon Berch (BC Min. of Environment), Mr. Kent Watson (Thompson Rivers Univ.), and Dr. Chuck Bulmer (BC Min. of Forests, Lands and Natural Resource Operations) and the course is organized in collaboration with Pacific Regional Society of Soil Science (PRSSS).
For more information, visit http://prsss.landfood.ubc.ca/summer-soil-course/