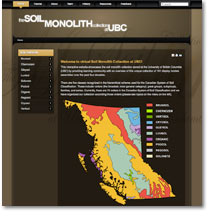 The objective of this web-based teaching tool was to showcase the Soil Monolith Collection stored at the University of British Columbia (UBC) by providing learning community with an overview of this unique collection of 197 display models assembled over the past four decades. The UBC has the 2nd largest collection of soil monoliths in Canada, which is currently underutilized in teaching because of its inadequate display and storage status. The tool will enhance teaching and learning by
providing better integration of historic soil science resources (monoliths) into undergraduate and graduate teaching,
increasing learner accessibility, and
offering interactive student learning activities.
Funding provided by the UBC's Teaching and Learning Enhancement Fund
Team Members:
Dr. Maja Krzic (UBC)
Saeed Dyanatkar (UBC)
Emma Holmes (UBC)
Dr. Les Lavkulich (UBC)
Rachel Strivelli (UBC)
Cory Wallace (UBC)
Katina Tam (UBC)
Martin Hilmer (UBC)